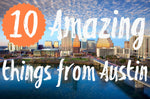 Austin is no doubt a unique city made up of oddities, unique ideas, and intriguing personalities. It's not often people give Austin credit for all the truly remarkable things that have hailed from it. So here is a list curated of the 10 best things to come out of Austin.
10. Aqua 512 Pomade
A growing favorite among Austin Barbers for its rejuvenating properties, unique no BS formula and its fresh look. Aqua 512 prides itself on its unique brewing process of crafting small batches of pomade to ensure the best product for its customers. Not only that but it's hybrid formula allows you to choose either a fresh off the beach natural look or a dapper clean cut look. Who knew you could craft pomade? 
 9. Tito's Handmade Vodka
Tito's Vodka is synonymous to Texas for its taste, craft, and history. It's 1997 and Bert Butler "Tito" Beveridge II has decided to open the first legal distillery in Texas after being fed up with the oil industry. The Vodka business was slow for Bert until 2001, when Tito's handmade Vodka won the Double Gold Medal for Vodka at the San Francisco World Spirits Competition and received a four-star rating from Spirit Journal leading to its boom. To this day Tito's is still crafted in the same distillery on the east side of town with the same special recipe using yellow corn.
8. Live Oak Brewing Company
A brewery known for blowing its competition out of the water with its award-winning craft beers. Also started in 1997 Live Oak is committed to its consumers by producing lagers and ales so good they leave you in a daze of pure delight. Live Oak is able to accomplish this by practicing a unique brewing process that is considered "old-world" because so few in America use it. Not only is their process unique but they source only the most authenticate ingredients for your taste buds. Live Oak is sure to be the next 6 pack you kick back with.
7. Yeti Coolers
"Born out of frustration and molded by experience" Roy and Ryan Seiders created Yeti. From a young age the Seiders brothers have always had a passion for the outdoors including everything from hunting and fishing to traveling. For the brothers it seemed like every adventure was plagued by one recurring theme - cheap unreliable coolers. After getting tired of handles that would break and lids that would cave in the brothers created Yeti in 2006 on a mission to create a cooler for the serious outdoors-man. Since then Yeti products have spoken for themselves by surviving the most brutal conditions, even fiery, blazes to ensure your drinks stay ice cold.
6. The Fleshlight
A fan favorite of military members and teenage boys, the infamous adult toy just so happens to hail from Austin! Designed by Steve Shubin in 1998 and marketed by Interactive Life Forms the Fleshlight comes in a variety of orifices and molds to fit your needs - 'nuff' said.
5. Torchy's Tacos
Tacos so legendary they coined the phrase "Damn Good." Started by Michael Rypka in 2006 with a food trailer, maxed out credit cards and a dream, Torchy's Tacos opened on Bouldin Creek and South 1st. Mike quickly got to work by handing out sample after sample of his award winning salsa to promote his business, it worked, Torchy's quickly became what other food trailers dreamed of. The first menu was nothing but experimental offering unique tacos and every time he received positive feedback with a "damn these tacos are good" he would add it to the menu. This tradition continues to this day in over 30 locations and a trailer park.
4. Matthew Mcconaughey
A texas icon who got his big break in Austin after landing a role in the 1993 classic "Dazed and Confused" which helped launch his career to stardom. Known for his roles in Dazed and Confused, A Time to Kill and Dallas Buyers Club Mcconaughey has become an iconic actor. He won Best Actor during the 86th Academy Awards, as well as a Golden Globe Award for Best Actor, just to name a few. Mcconaughey and his wife also started a charity called the Just Keep Livin Foundation which is dedicated to empowering students by providing them with after school programs to help them lead a better life. Mcconaughey is definitely one cool dude.
3. The Alamo Drafthouse
Quite possibly the best movie theater to ever exist, the Alamo Drafthouse rightfully earns its number #3 spot on our list. If you don't know by now the Alamo serves up some of the best food, snacks and drinks all while catching a movie. Their passion and attention to detail with film has earned them accolades from Wired, Fandango and was even named #1 Theater in America by Entertainment Weekly. Besides the great food and films they're known for their outstanding policy that will kick your a** out if you are texting or talking to ensure an amazing viewing experience. With such a great movie theater in your hood why go anywhere else?
2. DELL Computers
In 1984 at just 19 years old Michael Dell founds PC's Limited with $1000 and a dream he believes is game changing. In the following years Dell would gain $30 million from investors and increasing the market capitalization to $85 million. Little did the investors know that they would one day be known as "Dellionaires." Fast forward to 2016 and Dell has become one of the biggest computer companies in the world and just recently merged with EMC (the biggest technology integration ever) to create Dell Technologies.
1.Home Slice Pizza
Homeslice pizza is an Austin tradition that has been responsible for countless well received food comas since 2005. Opened by couple Jen and Joseph Strickland and friend Terri Hannifin the trio embarked on a journey that would leave its mark on Austin forever. Their vision was simple, to create an Austin based business on the original, unfailing goodness of authentic NY- style pizza with no compromise. To this day Homeslice has become an Austin landmark receiving plenty of awards and praise for its superb pies, with some even saying it's apart of the rite of passage for becoming a true Austinite.